Want to find a wonderful place to live?  You just did!
Dorchester is the hot place to be and this condo in North Dorchester is within walking distance to the new South Bay (Starbucks, AMC movie, restaurants, stores and supermarkets) and a wicked short walk to Dorchester Brewing Co, 224, The Banshee and more!
Only 1 mile to the South End and

Boston Medical Center – BMC
Boston University School of Public Health
Boston University School of Medicine

Only a 6 minute walk to the red line and JFK/UMass T stop.
Have a car? Unrestricted on street parking (i.e. no permit parking)!

Unheard of in the City of Boston!
Easy on/off access to 93/90.
About this great condo!  Huge (1,200 sqft) 3 bedroom, 1 bath furnished condo is available. Sunny condo is on the 3rd floor of a traditional Boston three decker. Hardwood floors, dishwasher, gas cooking stove, full-size washer/dryer in unit, WIFI 5GHz, huge covered back porch, adorable period clawfoot tub with shower. Back porch is surrounded by trees providing a leafy summer retreat. Unlike other places in Boston, building is "staggered" so there is plenty of light and cross breezes without having to stare into the neighbors' windows.
Common areas including eat in kitchen EIK, dining/living room, huge back porch (21' x 7') and bathroom. Condo common areas are fully furnished and space for additional items is limited. There is no additional onsite storage.
[ AVAILABLE JUNE 1, 2018 ] Bedroom 1: ($995) QUEEN BED 13' x 11' plus bowfront with 11' x 4' private patio with gorgeous views. Closet space has high ceilings.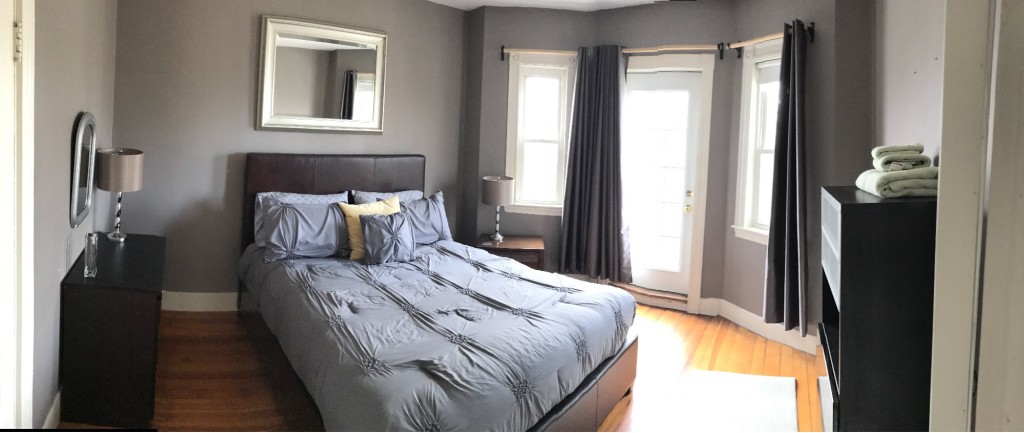 [ AVAILABLE SEPT 1, 2018 ] Bedroom 2: ($875) FULL SIZE 11'8" x 9' 6" Smaller bedroom but with the best layout with two windows and plenty of privacy. SUPER quiet for city living!
About you, the perfect roommate! Looking for: stable, independent, financially secure, LGBTQ family or inclusive ally.
You know common areas should be kept clean and everyone does their fair share of chores without needing little notes left on an oozing, decomposing pile of bananas in the pantry or YouTube links on how to mop a floor. While not a communal household, you're chill with household sharing of "common stuff" and know when it's "your turn" to get the toilet paper or dishwashing liquid.
Alcohol OK; drugs are not.
No smoking (vaping, e-cigging, lighting up, bonging, 420, etc.) in the condo, your room or common areas of the building.
About us: We are 2 cis-females (one queer lesbian and other cis-straight). One works remotely and the other is a grad student in Boston (UNTIL 8/31). It's a laid back, quiet home–don't even know folks are home unless crossing in the kitchen or bath. During the week, folks respect each other's M-F early hours and schedules.
On weekends, mornings are (surprisingly? sadly?) early while evenings are later with friends over for dinner or hanging around after dropping a note to allow others to adjust their schedules if needed. Raucous, fabulous parties are enjoyed away from home.
This is an inclusive home; racist, homophobic and transphobic behavior is not welcome.
Gritty details: Utilities (electricity, oil heat) are separate and vary on usage. Gas (hot water, stove and dryer) and internet are included.
Move in requires 1st, last, security deposit along with verifiable references and/or credit check.